Welcome to the Animal Jam Play Wild Users Wiki!
Welcome to the Animal Jam Play Wild Users Wiki! Please keep in mind that we hold no affiliation with the game. Anyone can join this wiki of 2 users who have currently made 492 edits on this wiki. If you need any help then just ask an administrator.
Featured Page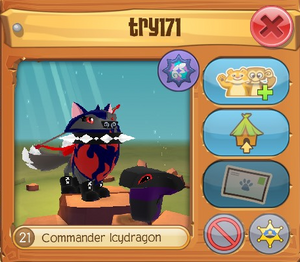 Try171 is an active Animal Jam Play Wild user who has been playing since 2016.
She is known as being very generous and sweet. She has sympathy for other players and deeply dislikes it when people with less items get treated badly. Although grateful when people offer her items she will usually just reply with "No thank you.".
Try171 is also part of a pack called "The Mira Family" which was created on December 2, 2017 and was founded by Lilybunny2008. The pack currently has five members and is allegiance to Peck.
Poll
Animal Jam Play Wild Users Wiki Staff
Live Chat
Please make sure that you are familiar with the
chat policy
before entering.
Community content is available under
CC-BY-SA
unless otherwise noted.